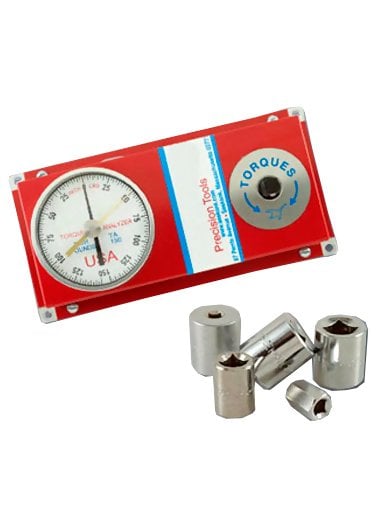 ---
Accuracy: 2.0% of reading
---
10 Ranges up to 200 ft-lbs
---
The Seekonk TA Series dial torque tester is design to test the calibration of click wrenches, dial wrenches and other manual torque tools. The TA series provides a means of quick and economical standardization. All models are guaranteed accurate to within +/- 2% of indicated reading from 20% to 100% of full range. Available with memory needle or Metric/English dial.
For use with hand operated tools only. Not for use with pneumatic or electric powered tools.
NOTE:This tool has a male square drive, Female to Female Adapters are optionally available.
Made in the USA
Includes NIST Traceable Calibration Cert
Memory Pointer included on MD models. Holds highest reading until reset
| | |
| --- | --- |
| Accuracy | 2% of reading from 20% - 100% of full range |
| | | | |
| --- | --- | --- | --- |
| Model | Range | Drive Size | Graduations |
| TA-30 | 0 - 30 lbf-in | 1/4" Male Square Dr | 1/2 in-lbs |
| TA-75 | 0 - 75 lbf-in | 1/4" Male Square Dr | 1 in-lbs |
| TA-100 | 0 - 100 lbf-in | 1/4" Male Square Dr | 2 in-lbs |
| TA-150 | 0 - 150 lbf-in | 3/8" Male Square Dr | 2 1/2 in-lbs |
| TA-300 | 0 - 300 lbf-in | 3/8" Male Square Dr | 5 in-lbs |
| TA-600 | 0 - 600 lbf-in | 3/8" Male Square Dr | 10 in-lbs |
| TAF-50 | 0 - 50 lbf-ft | 1/2" Male Square Dr | 1 ft-lbs |
| TAF-100 | 0 - 100 lbf-ft | 1/2" Male Square Dr | 2 ft-lbs |
| TAF-150 | 0 - 150 lbf-ft | 1/2" Male Square Dr | 2 1/2 ft-lbs |
| TAF-200 | 0 - 200 lbf-ft | 1/2" Male Square Dr | 5 ft-lbs |
| | |
| --- | --- |
| - 0.5% Accuracy of indicated reading from 10-100% of the capacity (Bidirectional), 0.25% Optional | |