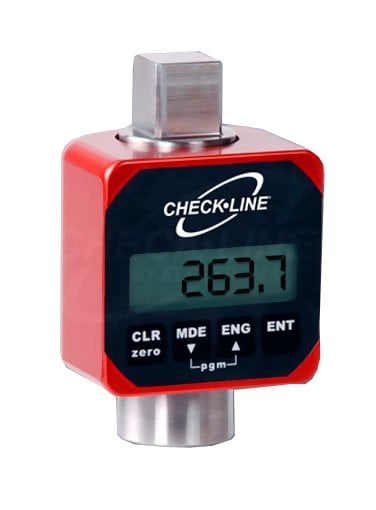 ---
Inline digital torque tester for quick tool verification
---
Ranges up to 5000 lb-ft
---
Eight selectable engineering units: Oz.in., Lb.in., Lb.ft., Nm, cNm, KgfCm, gfCm, Kgfm
---
12 Ranges Available up to 5000 lb-ft
The versatile AWS ILTT Inline Digital Torque Tester converts any non-impacting torque tool into a complete torque measuring & analyzing system, simply connect the tester to the square drive, attach a socket and measure clockwise or counter-clockwise torque.
The AWS ILTT is suitable for use with any hand tool or non-impacting power tool including torque wrenches, breaker bars, nut-runners and more. Internal NiMH rechargeable batteries provide 8-10 hours continuous use.
The ILTT takes just seconds to change test parameters, and works in either one button or automatic modes of operation.Reliability and ease of use are enhanced with features such as: Sign Lock, Peak Blanking and Auto Clear.
Not for use with Impact Tools
Bidirectional accuracy of 1% of indicated reading
Eight (8) selectable engineering units: Oz.in., Lb.in., Lb.ft., Nm, cNm, KgfCm, gfCm, Kgfm
3 modes of operation: Track, Peak and 1st Peak
Rugged Aluminum Housing
NiMH rechargeable batteries provide 8-10 hours continuous use
Includes NIST-Traceable Calibration Certificate
Adjustable "auto-clear" for hands-free operation
RS-232 Serial Output included for downloading data to PC's
| | |
| --- | --- |
| Calibrated Range | 10-100% Full Scale, bi-directional |
| Accuracy | 1% of indicated (within calibrated range) |
| Resolution | 4 Active Digits |
| Overload Protection | 200% Full Scale bi-directional |
| Operating Modes | Track, Peak, 1st Peak |
| Filtering | Selectable; 125Hz, 250Hz, 500Hz, 1000Hz, 1500Hz and 2000Hz |
| Memory | data storage of up to 999 readings |
| Data Output | RS-232 |
| Alarm Limits | Panel Mounted LED for Visual Alarm Limits |
| Power | Internal NiMH battery, 9V Charger (included) |
| Weight | Aproximately 3lbs depending on transducer |
| Operating Temp | 32 - 120 F (0-50 C) |
| Warranty | 1 Year |
| Calibration Certificate | Includes NIST Traceable calibration certificate with data |
| | | |
| --- | --- | --- |
| Model | Range | DriveSize |
| ILTT-100i | 10 - 100 Lb-in | 1/4" |
| ILTT-250i | 25 - 250 Lb-in | 3/8" |
| ILTT-500i | 50 - 500 LB-in | 3/8" |
| ILTT-100F | 10 - 100 Lb-ft | 1/2" |
| ILTT-150F | 15 - 150 Lb-ft | 1/2" |
| ILTT-250F | 25 - 250 Lb-ft | 1/2" |
| ILTT-600F | 60 - 600 Lb-ft | 3/4" |
| ILTT-750F | 75 - 750 Lb-ft | 3/4" |
| ILTT-1000F | 100 - 1000 Lb-ft | 1" |
| ILTT-2000F | 200 - 2000 Lb-ft | 1" |
| ILTT-3000F | 300 - 3000 Lb-ft | 1 1/2" |
| ILTT-5000F | 500 - 5000 Lb-ft | 1 1/2" |
Alternative Unit Calculator- recasts values in above table (units in RED can be selected on gauge. Other units for reference only)
| | |
| --- | --- |
| The flexible design of the TWT-410 is easy to use and is suitable for various torque wrench lengths and brands | |