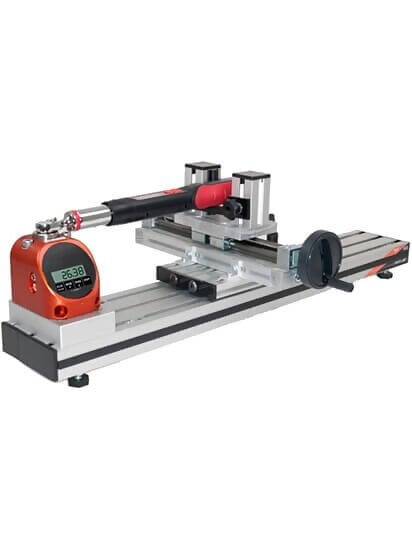 ---
Calibrates and verifies torque wrenches up 250 lb-ft / 340 Nm
---
Flexible design for various torque wrench lengths and brands
---
3 Measuring Ranges:
AWS TWT-410-150i- Test Range: 15 - 150 lb-in / 16 Nm, 1/4" Dr
AWS TWT-410-250i- Test Range: 25 - 250 lb-in / 28 Nm, 3/8" Dr
AWS TWT-410-250f- Test Range: 25 - 250 lb-ft / 338 Nm, 1/2" Dr (other ranges ranges available on request)
The AWS TWT-410 torque wrench loader is the ideal tool for calibration and verification of all types torque wrenches including, cam-over, click, slip, digital and dial. The test stand is available in capacities up to 250 lb-ft / 340 Nm. The flexible design of the TWT-400 is easy to use and is suitable for various torque wrench lengths and brands.
The digital torque tester included with the TWT-400 can also be used to test power tools including impulse and DC electric drivers and wrenches with the use of arun-down-fixture(included with 1/4' and 3/8" sizes, optional on 1/2" models).
The flexible design of the TWT-410 is easy to use and is suitable for various torque wrench lengths and brands
Eight (8) selectable engineering units: Oz.in., Lb.in., Lb.ft., Nm, cNm, KgfCm, gfCm, Kgfm
Bidirectional accuracy of 0.5% of indicated reading
3 modes of operation: Track, Peak and 1st Peak
NiMH rechargeable batteries provide 8-10 hours continuous use
CE Certified and NIST Calibration Certificate
| | |
| --- | --- |
| Calibrated Range | 10-100% Full Scale, bi-directional |
| Accuracy | 0.5% of indicated reading (Bidirectional) |
| Resolution | 4 Active Digits |
| Filtering | Selectable - 125Hz, 250Hz, 500Hz, 1000Hz, 1500Hz and 2000Hz |
| Operating Temperature | 32 - 122 F / 0-50 C |
| Operating Modes | Track, Peak, 1st Peak |
| Data Output | RS-232 |
| Alarm Limits | Panel Mounted LED for Visual Alarm Limits |
| Power | NiMH rechargeable batteries provide 8-10 hours continuous use |
| Warranty | 1 Year |
| Weight | 25 lbs |
| Calibration Certificate | Includes NIST Traceable calibration certificate with data |
| CE certification | Yes |
| Dimensions | 30" x 9" x 14" (76cm x 23cm x 35cm) |
| | | |
| --- | --- | --- |
| Model | Range | Drive Size |
| TWT-410-150i | 15 - 150 Lb-in | 1/4" |
| TWT-410-250i | 25 - 250 Lb-in | 3/8" |
| TWT-410-250f | 25 - 250 Lb-ft | 1/2" |
Alternative Unit Calculator- recasts values in above table (units in RED can be selected on gauge. Other units for reference only)